i5-12600K processor specifications
Intel's 12th generation i5-12600K has 10 cores and 16 threads, using a design of 6 large cores + 4 small cores. The maximum core frequency is 4.9GHz. Support DDR4 3200 and DDR5 4800 frequency memory. Support PCIE5.0 . PCIE4.0 is also supported, combined with the Z690 motherboard, supports multiple PCIE4.0 solid-state hard drives working in PCIE4.0*4 state at the same time.
The performance of the i5-12600K is also very powerful. According to the CPU-Z running scores reported on the Internet, 773 points for single-core and 7220 points for multi-core. This performance even surpasses i9-11900K.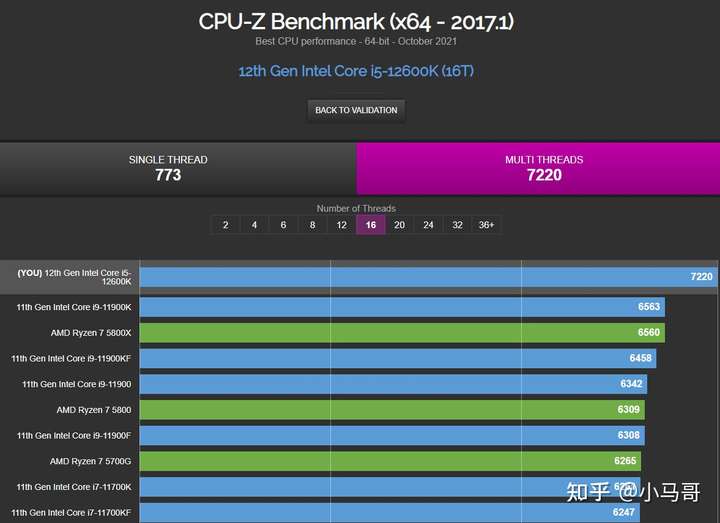 The best motherboards for  i5-12600K
In the past, many users of i5-XX600k processors used B-series motherboards, because Z-series motherboards are too expensive, usually above $200, and high-spec B-series motherboards around $150 are more cost-effective. The B-series motherboards with 12th-generation processors will not be launched next year, so I suggest you choose the entry-level Z690 motherboards. Even the power supply part of the entry-level Z690 motherboard is very strong, enough to meet the power supply requirements of 12600K.
It is recommended that you choose the MSI PRO-Z690-A motherboard. This motherboard uses 14-way 55A power supply. There are 4 M.2 SSD slots, 3 of which support PCIE4.04 mode, and one of them supports PCIE3.04 mode. The first M.2 socket has a heat sink. CPU power supply adopts two 8pin interfaces. With front TYPE-C interface. Although it is a beggar board, all kinds of interfaces are complete and very practical. The current price is 1699 yuan, which is not much more expensive than the Z590 motherboard.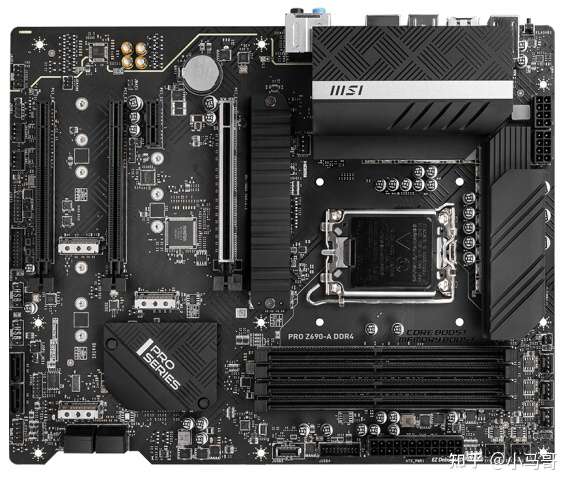 This motherboard supports DDR4 memory. DDR5 memory is currently more expensive and has high latency. It is also a good solution to choose a motherboard that supports DDR4 memory. It can be matched with a slightly better DDR4 memory. It is recommended to choose G.SKILL's 32GB (16G×2) DDR4 4000 frequency package. The timing of this memory is 18-22-22-42.
The best Cooling for i5-12600K
i5-12600K is recommended with 240, 280 or 360 water cooling. Water cooling can be matched according to the selected chassis. It is recommended to choose cooler B240 or B360 water cooling (mainly considering the price, performance is sufficient). However, none of the brands currently has the corresponding LGA 1700 buckle. Mainstream brands have stated that they will provide corresponding buckles for users who have already purchased water cooling.
The best SSD for i5-12600K
It is recommended to use the Samsung 970 EVO PLUS with PCIE3.0 or the Samsung 980 PRO with PCIE4.0 for the solid-state drive. The prices of the two solid 1T models are $160 and $200 respectively. The theoretical speed difference is about double. But the actual experience is minimal. You can choose according to your budget.
The best power supply for i5-12600K
The power supply is recommended to choose the gold medal full-module power supply above 650W. Even productivity users who do not need a discrete graphics card are recommended to choose a 650W gold full-module power supply. Because the motherboard CPU power supply part uses two 8pin power supplies. Usually only two 8pin CPU power plugs are needed for a gold power supply above 650W. Although only one 8pin can be used, it is recommended to plug in both. The module power supply is also very convenient for future expansion and hardware equipment (such as adding a lot of hard disks with SATA interfaces, you can expand multiple SATA through the module cable
| Graphics card | Power |
| --- | --- |
| 3060,6600XT | 550W |
| 3060TI,3070,3070TI,6700XT | 650W |
| 3080,3080TI,6800XT | 750W |
Case for i5-12600K
Since the motherboard is an ATX version, it is recommended to choose a mid-tower case for the case. For heat dissipation priority and price considerations, you can consider Antec DA601 and CoolerMaster TD500 MESH, with 360 water cooling. If you don't want light pollution, you can choose the cool S600 silent chassis with 240 water cooling.
The best hardware list for i5-12600K
| hardware | model |
| --- | --- |
| CPU | i5-12600K |
| Motherboard | MSI PRO-Z690-A (DDR4) |
| Cooling | CoolerMaster B360 |
| Graphics card | ASUS TUF 3070 |
| SSD | Samsung 980 PRO 1T |
| RAM | G.SKILL DDR4 4000 32G(16*2) |
| power supply | SUPER FLOWER LEADEX G 650 |
| Case | Antec DA601 |
Summarize
12600K performance is very strong, very suitable for gamers. With the entry-level Z690 motherboard and DDR4 memory, the whole machine is not much expensive, and it is very worth starting. But the question now is whether the supply of 12600K is sufficient? Can I buy the Z690 motherboard of Beggar?