About intel 11th Gen 11400,11500 And 11700
Intel's 11th-generation Core processor uses a 14nm process and supports PCIE4.0. The CPU provides 20 PCIE4.0 channels, of which 16 are used by the graphics card and 4 channels are used by the M.2 SSD. Support 3200MHz frequency memory.
There are suffixes such as K and F behind the CPU model. With K means that the multiplier is not locked, it can be overclocked, and cooler needs to be purchased. With F means that there is no graphics card, and you need to buy a discrete graphics card. The core display performance of this generation of processors is about 50% higher than that of the previous generation. The i5-11400 integrates UHD 730 graphics cards, and other models integrate UHD 750 graphics cards. The core display that comes with the CPU can play LOL, CSGO and other games.
| | | | | |
| --- | --- | --- | --- | --- |
| model | CORE | Thread | Max Frequency | graphics |
| i5-11400 | 6 | 12 | 4.4 | UHD 730 |
| i5-11500 | 6 | 12 | 4.6 | UHD 750 |
| i5-11700 | 8 | 16 | 4.8 | UHD 750 |
| i5-11900 | 8 | 16 | 5.2 | UHD 750 |
The Best Motherboards For i5-11400,i5-11500 and i7-11700
Since none of the above CPUs can be overclocked, it is recommended to match the motherboard with a B560M motherboard with a good price/performance ratio. Asus' TUF GAMING B560M-PLUS WIFI motherboard is a good choice.his motherboard uses 8+1 phase power supply module, there are 2 M.2 slots, one of which has a heat sink, supports PCIE4.0. Integrated WIFI6 wireless network card (AX200, with Bluetooth 5.1) and 2.5G wired network card. The back uses an integrated IO panel (only the heavy gunner PRO in the previous generation was an integrated panel). At present, there are not many discounts for this motherboard. The price is about $150.

The ASUS TUF GAMING B560M-PLUS WIFI motherboard has DP and HDMI video output ports.
The Best Cooler for i5-11400,i5-11500 and i7-11700
These processors have their own coolers, i5-11400 and i5-11500 processors can consider using their own coolers. Although i7-11700 has its own cooler, it is recommended to use 120 or 240 water cooling.  NZXT Kraken M22 is more suitable for M-ATX chassis.
The Best graphics cards for i5-11400,i5-11500 and i7-11700
Office users can use the core display that comes with the CPU instead of buying a graphics card separately. This generation of nuclear display is still quite strong, according to the user who got the sample tested playing LOL at 1080 resolution, CSGO is no problem. But playing 3A games, such as pubg, is still not good. Recommended to match 3060 , 3060Ti ,3070.
The Best SSD for i5-11400,i5-11500 and i7-11700
One of the features of the 11th generation processor is the solid state drive supporting PCIE4.0. It is recommended that users with a budget choose a solid state drive that supports PCIE4.0, and you can choose a 500G Samsung 980 PRO. If the 500G capacity is not enough, you can add an M.2 solid-state or mechanical hard drive. It is also possible to choose PCIE3.0 solid-state hard drives, and they are compatible.
The Best memory for i5-11400,i5-11500 and i7-11700
The 11Th gen cpu is support 3200 frequency memory. At the same time, the B560M motherboard supports memory overclocking. It is recommended to choose 16G 3200+ frequency memory. It is recommended to use the Kingston Fury DDR4 3200 16G package. 
The Best power supply for i5-11400,i5-11500 and i7-11700
The power supply is recommended to be selected according to the graphics card used. If you are using a graphics card integrated with the CPU, you can use a 450W 80 plus bronze-certified power supply. If you use NVIDIA 3060 graphics card, you can choose 550W 80 plus gold certified power supply. Use 3060 and 3070 graphics cards, you can use 650W 80 plus gold certified power supply.
Chassis recommendation
The chassis is recommended to choose Cooler Master's Q300L M-ATX chassis. Support M-ATX motherboard.This case uses a perforated steel plate and a magnetic dust-proof net structure. Good heat dissipation. It is also very convenient to clean the dust on the surface.  A fan is standard on the rear. You can also choose two 120mm fans at the front.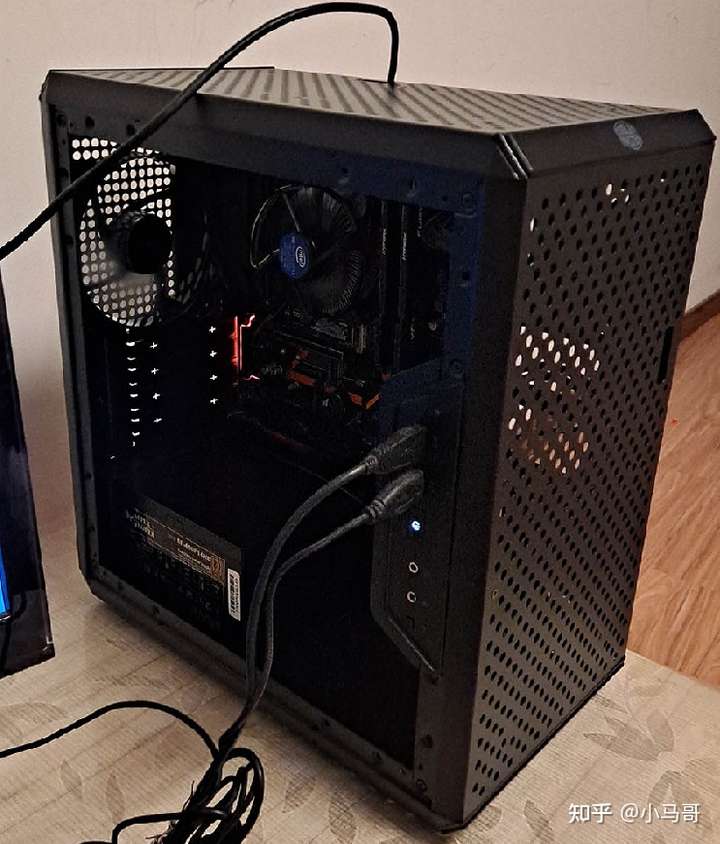 Hardware List:
CPU: i5-11400 / i5-11500 / i7-11700
Motherboard: Asus TUF GAMING B560M-PLUS WIFI
Cooler: NZXT Kraken M22
Graphics card: Asus TUF 3060Ti
SSD: 1TB Samsung 980 PRO
Memory: Kingston FURY DDR4 3200
Power supply: SUPER FLOWER LEADEX G 550
Case: CoolerMaster Q300L
FAN: CoolerMaster MasterFan MF140 HALO ARGB *2